30 September, 2003 9:49 AM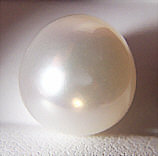 'The Kingdom of heaven is like a man who is looking for fine pearls, and when he finds one that is unusually fine, he goes and sells everything he has , and buys that pearl.' Matthew 13:45-46.
What passionate imagery of the Kingdom of God.
I was once given this little parable to speak on. I was preparing to present a challenge to 'give up all' for the 'pearl of Jesus' when a soft voice whispered in my inner ear.
'You're the pearl Darren.'
There began another journey of discovery, healing and freedom.
Comments
Page: